I have to give due justice to this amazing flower at Christmas, as I would throughout the year! The flower market was inundated by red roses yesterday: big blooms, small blooms, scented and artificial looking ones.. And whilst I will never dismiss the rose, I say 'Let's give Gloriosa a chance!'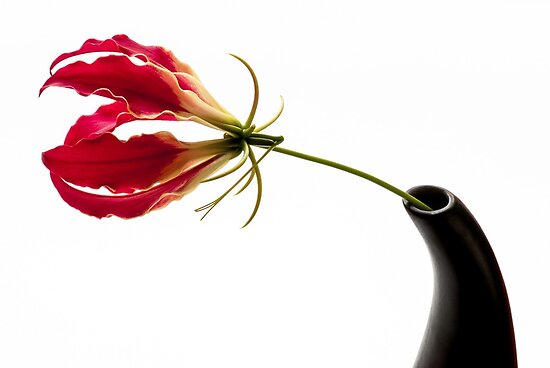 Common name: gloriosa lily
Latin name : Gloriosa superba
I must admit that I would rather use the Latin name, for two reasons: it is indeed a superb flower and, if I suggest it to a bride as 'gloriosa lily', I get a very quick 'no lilies please'.
There are a few other reasons to consider the under-used gloriosa: it is long-lasting, inexpensive and available all year round. Its exotic appearance will always get people talking. Imagine it bunched as simple domes in glass fishbowls, or used as  an accent flower on a Christmas centrepiece , accompanied by velvety roses, Ilex berries and dainty butterflies.
Austen Flowers loves it submerged  in large heavy glass cylinders – suspended on fishing line  gloriosa looks surreal! Just tie a length of fishing line to a cobble, string 5-10 gloriosa onto it and lower it very gently into the vase – as simple as that – it takes 10 minutes and looks a million dollars.
And some more info  for the green-fingered – grown widely in India in the coconut groves,  the gloriosa tubers will produce vines up to 3m long and abundant flowers in a warm conservatory in Europe.