Ranunculus is the scientific name of the buttercup, the beloved field flower of my childhood. The genus Ranunculus is part of Ranunculaceae family whose other members include Clematis, Helleborus, Pulsatilla and Anemone.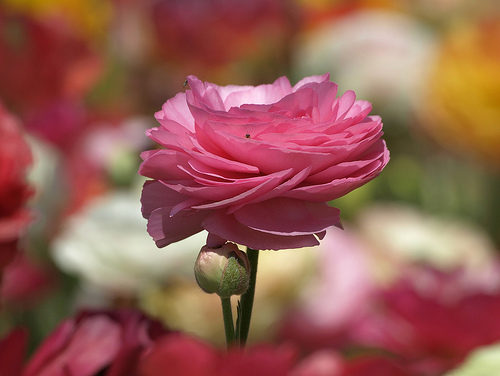 In floristry the Persian buttercup (Ranunculus asiaticus) is by far the most important species and is the parent of innumerable forms used by flower arrangers. These include so-called 'peony' forms that, at 20-25cm, are also the tallest of the buttercups. Their flower parts emerge in a spiral and are available in red, pink, orange, yellow and white. The flowers are picked when the main flower is fully grown and last between 8-10 days in an arrangement.
The buttercups represent simple radiance and attraction. Because of these symbols, this blossom has become one of the many flowers to be given on romantic  occasions, and are slowly becoming a favorite of spring brides.